Some Friendly Tips About Yoga Etiquette.
Etiquette is an accepted social behavior in a particular setting; it defines the proprieties of conduct as established in any class or community or occasion. Etiquette is not a loud and explicit rule; it is soft and subtle and yet always carries you further when you observe appropriate etiquette in the right setting. Master the etiquette of the occasion and you will immediately draw favorable attention of the crowd. Yoga, which everyone can do, is no exception. A tradition as ancient and beautiful as yoga comes with a certain level of implied etiquette and it is the sincere hope of any devoted yoga practitioner to see all his or her fellow yogis and yoginis observe the same unwritten proprieties.
Most of us have good intentions a majority of the time, but it is also easy to shove etiquette under the rug for the sake of getting something done quickly and easily in this mad rush in which we live our lives. Resist the temptation! With the beautiful mindset of learning and respecting the etiquette and proprieties of the occasion, indulge us please in these Yoga Etiquette tips which may initially make us appear as a yoga drill sergeants! Rest assured, we are far from it! We assure you we have been guilty of some of these ourselves and they only stem from the desire to enhance etiquette not just in yoga but in all aspects of our lifestyle:
Be punctual to every yoga class
Enough can't be said about this first tip! Give yourself enough time to arrive at the studio, hang up your coat, take off your shoes and socks, and turn off your cell phone. You'll need to sign in and pay for class, which often involves a bit of paperwork if you're new to the yoga studio. You'll also want to give yourself a few extra minutes to lay out your mat, gather props, and bring your breath to an even and steady pace. After all, it's pretty challenging to get centered if you're racing in just as class is getting started, and there's little worse than being the cause of a disruption when everyone has just begun to relax. Usually, arriving a good 10-15 minutes before class starts is appropriate (not too much more, as sometimes the teachers need prep time, or a prior class may still be going on in the studio).
Turn off all electronics before yoga class
Just imaging you are taking off for a flight. You really, really do not want to be the one who forgot this effortless necessity. Simply turn off (it is not enough to silence) your phone during class. Exit the world of constant communication which we all love, and step into your mat fully liberated. Remember that others have done the same, and interrupting the yoga zone with a ringtone (any ringtone!) is rather unforgiving, regardless of the calm reaction you may receive.
Sign in and as you enter the studio
As you arrive at the yoga studio, please remember to sign in. Print your name clearly on the sign in sheet, this is particularly helpful to our friendly front desk staff. It can be challenging to read some of the names so please take a moment to print clearly! Make it part of your must-do ritual and then forget about it to delve into your practice.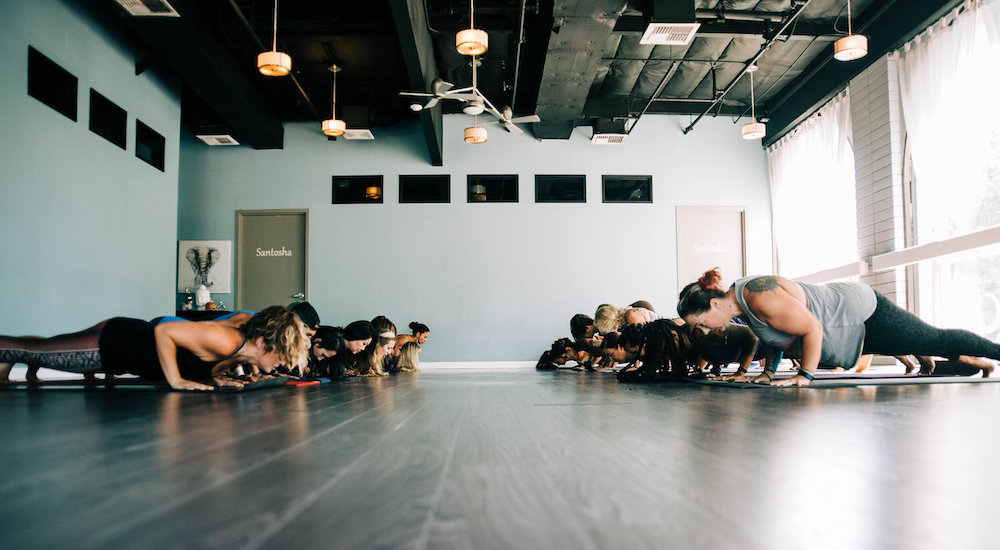 Be aware of the space you take
Though the teacher often moves around the room and does demonstrations from various places in the studio, be aware of where you're placing your mat so you don't sit yourself directly in front of someone else. It is common courtesy to stagger yourself so that the person behind you has a clear view of the teacher throughout the yoga class.
Remove shoes outside of the Yoga floor
Yoga classes are usually on a hardwood or parquet floor, and every one does yoga with bare feet. That means one thing: no shoes on the yoga floor. Keeping the floors clean, at least from the dirt carried on the bottom of a shoe, is important to everyone including yourself. We have a place to "park" shoes or you can just follow the (expert) crowd.
Go easy on perfume and cologne
You breathe heavy and deep breaths in yoga and are in close proximity of others. These lovely smells, will come across very strongly during the session. Observe good general hygiene, but save the perfume for your post-yoga after-shower celebration so as not to affect the meditation and rhythmic breathing during the class.
Don't chat with the person next to you during class
Sure, make friends with your yoga neighbors because, after all, yoga is all about "uniting," right? Often the yoga studio is a prime gathering space for like-minded folks, but keep the chatting for before or after class. Once you enter the yoga floor, it's time to turn inward. Many students relish practice as a time to turn inward and become centered, and the time in the studio before, during, and after class is to some a sacred time to ¨stay on your mat.¨ Plus, chatting during class is distracting and even dangerous when challenging poses are being taught and people need to stay focused.
Leave (even well-behaved) children at home
As lovely as your children may be, think about the length of the yoga class, their level of focus and attention, and whether it is realistic to expect your child to make it through the entire class. Leave your children at home or take them to a yoga for kids class.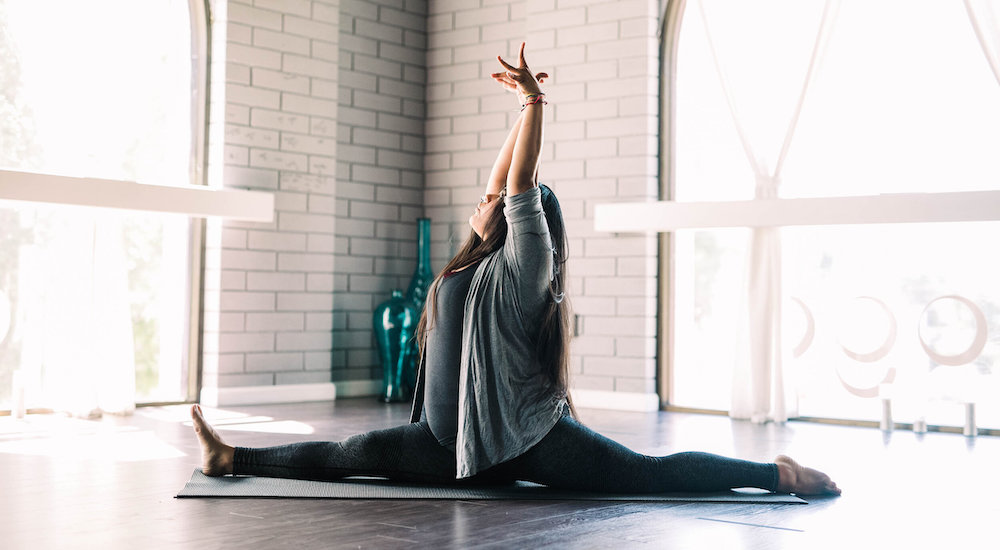 Use a tissue
Eye pillows and tissues are available for use in savasana (final relaxation). Place a tissue between your eyes and the pillow to protect those peepers and keep things sanitary.
Observe silence during Savasana
This is one where you will know and love when you have made friends with your yoga mat, but it will take time. Until then, consider it a dedication to the finish of practice. Practice silence during savasana and however tempted you may be to leave and skip out, resist it. This is where your practice assimilates and the results are infused with a repose so well-deserving and so necessary. This last pose seals your practice with good omen and prepares you for the next phase. If you must leave before the end, leave before people settle into savasana and be as quiet as a church mouse!
Clean up immediate area
If you borrowed or rented a mat from the studio, roll it up and return to the front desk to be wiped down for the next person. If you created a puddle of sweat, wipe it with your towel. If you used props, put them back neatly. Take all your stuff with you. It takes only a few seconds and it shows you respect others who will come to use the space. Practicing cleanliness in public will always leave the best impression about you with others. What a thing to savor at the end of a yoga class!
Mind personal hygiene
Remember yoga class is often a very intimate setting. Please mind your personal hygiene. Good personal hygiene shows respect to our own self and body first and foremost so it should never be compromised.
Be Kind to Others.